High cyclical pork price that will bring about systematic changes.
Alex Kovachevich
 General Manager Genesus China
After the huge culling of sows in China in 2015 due to consistent low pork price, by as many as 10 million sows (according to RaboBank) the price slaughterhouses have been paying for animals has soared from August 2015. See graph below from Bloomberg August 18, 2015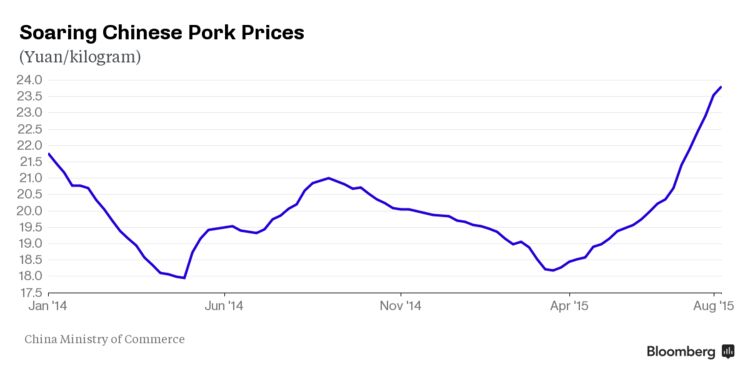 According to China's tech-food.com the price for pork in the last week of March 2016 was still over 20/KG (3.09USD/KG)! As is the norm, prices in the South West have been the highest, this observer takes the opinion that a combination of high population and a lower supply of corn causing this extra high price in the Sichuan and neighbouring areas.   At the start of March 2016 farmers were boasting of profits of over 800rmb (124USD) a pig, for farmers who have been used to break even profits, or more likely losses, it's a fantastic time. With overall stable grain prices the profit to farmers has been growing since the end of 2015 with the normal decrease in pork prices after the surge over the Chinese New year holiday not occurring. The main reason for this continuing high prices seem to be simply the low supply of animals, not enough pigs! With at least 10 million sows gone from the production equation and pork prices being continuously high it will take some time for supply to match demand. With steady grain prices, no news of major disease breaks coupled with a consistent demand for pork it is a good time for Chinese pork producers. However it appears that while farmers and larger integrators are making the most out of the current high sales prices and steady feed material prices, it seems that not enough systematic genetic improvements are being planned or more importantly implemented in larger pork production operations.  We in Genesus have been explaining that to prepare for the inevitable lower pork prices or higher feed and other input costs, or to take better advantage of future high pork prices, barns must improve their genetics now and have a long term genetic improvement goal. In combination with better sow production figures through a continuous process of genetic improvement and raising production husbandry techniques the winners of the pork production industry in China will continue to grow. The others will gradually leave the industry as pork prices fall to a long term equilibrium, and the costs to set up new farms rise. As the investment involved with the pig industry grows I expect to see pork prices stabilise. In the past the government has provided funding and direction for the pork industry in times of health crises or price fed crises. In combination with land allowed to be used for pig farming becoming increasing hard to find and government policy and funding which have forced improvements to both the professionalism and environmental situation of farms, we have seen the average sow population per farm grow. The government has also actively closed smaller less professional farms to help control disease, improve food safety, to support their policy direction of large scale and high tech production facilities. The latest policy support for the pig industry is the planned establishment and start-up funding for boar studs to provide semen for the farms within a 100 km radius of the studs. With a reliable semen source for AI the onus for farmers will shift from keeping their own boars to using the genetics provided by these boar studs. This is an encouraging policy and I believe that this policy of removing the genetic improvement work from production barns is a good step forward, each company can only do one thing best, and so production is best done by the production people and genetics by the genetics people. Here at Genesus China we are working to provide China with the best genetics possible; prolific, healthy and calm sows, perfect for the larger farms that will be the norm in the future.
Categorised in: Featured News, Global Markets
This post was written by Genesus